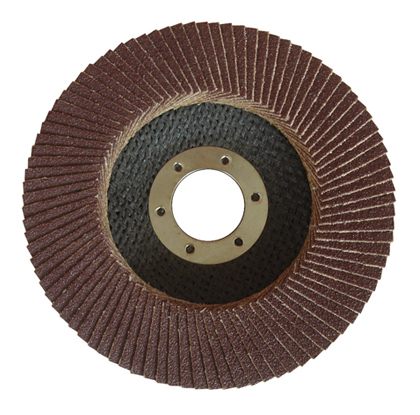 AK510 Perfect Line
Features:
● Preminum aluminum oxide grain
● Heavy cotton cloth
● Close coated for more material removal
● Glass fibre backing
Benefits
● General purpose,normal life
● Good stock removal
● 3-5 times life than resin fibre disc
Application
● Iron, Steel,aluminum, brass, copper etc
● Wood,paint,plastic etc

| | | | | | | | | | |
| --- | --- | --- | --- | --- | --- | --- | --- | --- | --- |
| Diameter | Diameter | Flaps | Flap size | Grit | Speed | Box | Shape | Art No. | Bar code |
| [Inch] | [mm] | | [mm] | | [r.p.m] | [pcs] | | | |
| 4x5/8 | 100x16 | 72 | 25x15 | 40 | 15200 | 10 | T27/29 | 21009 | 69458268 21009 |
| 4x5/8 | 100x16 | 72 | 25x15 | 60 | 15200 | 10 | T27/29 | 21016 | 69458268 21016 |
| 4x5/8 | 100x16 | 72 | 25x15 | 80 | 15200 | 10 | T27/29 | 21023 | 69458268 21023 |
| 4x5/8 | 100x16 | 72 | 25x15 | 120 | 15200 | 10 | T27/29 | 21030 | 69458268 21030 |
| 4.5x7/8 | 115x22 | 72 | 25x17 | 40 | 13300 | 10 | T27/29 | 21122 | 69458268 21122 |
| 4.5x7/8 | 115x22 | 72 | 25x17 | 60 | 13300 | 10 | T27/29 | 21139 | 69458268 21139 |
| 4.5x7/8 | 115x22 | 72 | 25x17 | 80 | 13300 | 10 | T27/29 | 21146 | 69458268 21146 |
| 4.5x7/8 | 115x22 | 72 | 25x17 | 120 | 13300 | 10 | T27/29 | 21153 | 69458268 21153 |
| 5x7/8 | 125x22 | 72 | 30x17 | 40 | 12200 | 10 | T27/29 | 21283 | 69458268 21283 |
| 5x7/8 | 125x22 | 72 | 30x17 | 60 | 12200 | 10 | T27/29 | 21290 | 69458268 21290 |
| 5x7/8 | 125x22 | 72 | 30x17 | 80 | 12200 | 10 | T27/29 | 21306 | 69458268 21306 |
| 5x7/8 | 125x22 | 72 | 30x17 | 120 | 12200 | 10 | T27/29 | 21313 | 69458268 21313 |
| 6x7/8 | 150x22 | 90 | 35x19 | 40 | 10200 | 10 | T27/29 | 21405 | 69458268 21405 |
| 6x7/8 | 150x22 | 90 | 35x19 | 60 | 10200 | 10 | T27/29 | 21412 | 69458268 21412 |
| 6x7/8 | 150x22 | 90 | 35x19 | 80 | 10200 | 10 | T27/29 | 21429 | 69458268 21429 |
| 6x7/8 | 150x22 | 90 | 35x19 | 120 | 10200 | 10 | T27/29 | 21436 | 69458268 21436 |
| 7x7/8 | 180x22 | 110 | 40x21 | 40 | 8600 | 10 | T27/29 | 21481 | 69458268 24181 |
| 7x7/8 | 180x22 | 110 | 40x21 | 60 | 8600 | 10 | T27/29 | 21498 | 69458268 21498 |
| 7x7/8 | 180x22 | 110 | 40x21 | 80 | 8600 | 10 | T27/29 | 21504 | 69458268 21504 |
| 7x7/8 | 180x22 | 110 | 40x21 | 120 | 8600 | 10 | T27/29 | 21511 | 69458268 21511 |
| | |
| --- | --- |
| Name:material | |
Message:
Areas for improvement of the tool material?
Replay:
As time advanced processing technology continues to improve, roughing and finishing titanium alloy material removal rate is also rising. As can be seen, titanium alloys improved curve flattens, has limited its room for improvement. Processing efficiency can be further improved, the need to adopt a new processing technology. Taking into account the increasing proportion of titanium and composite materials in aircraft structural materials, improve the efficiency of the processing of these materials is essential. The following is a drilling process tool composite / metal laminate material possible areas for improvement: (1) higher hardness, toughness and better material grades; (2) functionally gradient materials (in different parts of the tool to customize the different cutting performance); (3) nanotechnology (nano-structures); (4) different composition (such as non-cobalt based binder); (5) self-lubricating ability (can be used for dry or nearly dry cutting); (6) a lower tool cost of materials; (7) the lower tool manufacturing and regrinding costs; (8) improved coating bonding method.
| | |
| --- | --- |
| Name:grinding | |
Message:
The wheel cutting sheet classification?
Replay:
Depending on the material used, the grinding wheel can be divided into: resin wheel, a ceramic grindstone, diamond grindstone, etc.; Cutting discs can also be divided into: resin cutting discs, diamond cutting discs. Usually more popular method of sub-purposes: grinder grinding wheel, grinding wheel, serrated grinding wheel slotted wheel, worm grinding wheel, the inner circle grinding wheel, etc.; Cutting discs: tile cutting disc, cut pieces of marble cutting discs, stainless steel cutting discs, rail, road cut pieces.