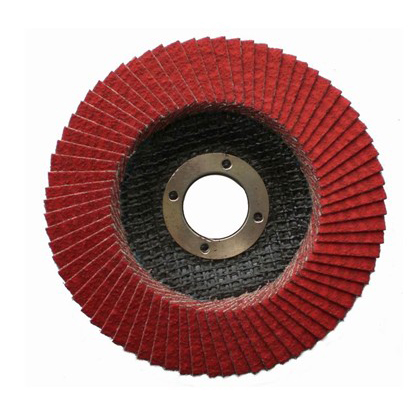 SG855 Top Line
Featues:
● VSM Ceramics SK855/850x Top Size
● Aggressive cutting action & abrasive additives
● Optium grain orientation and coating technique
● Self-sharpening grain & excellent adhesion
Benefits
● High,Consistent stock removal
● No discolouring of the workpiece
● 3-5 times life than zirconia flap disc
Application
● High-alloyed steel,Chrome &chrome-nickel steel
● Stainless steel, cast iron, non-ferrous metals

| | | | | | | | | | |
| --- | --- | --- | --- | --- | --- | --- | --- | --- | --- |
| Diameter | Diameter | Flaps | Flap size | Grit | Speed | Box | Shape | Art No. | Bar code |
| [Inch] | [mm] |   | [mm] |   | [r.p.m] | [pcs] |   |   |   |
| 4x5/8 | 100x16 | 72 | 25x15 | 40 | 15200 | 10 | T27/29 | 26004 | 69458268 26004 |
| 4x5/8 | 100x16 | 72 | 25x15 | 60 | 15200 | 10 | T27/29 | 26011 | 69458268 26011 |
| 4x5/8 | 100x16 | 72 | 25x15 | 80 | 15200 | 10 | T27/29 | 26028 | 69458268 26028 |
| 4x5/8 | 100x16 | 72 | 25x15 | 120 | 15200 | 10 | T27/29 | 26035 | 69458268 26035 |
| 4.5x7/8 | 115x22 | 72 | 25x17 | 40 | 13300 | 10 | T27/29 | 26042 | 69458268 26042 |
| 4.5x7/8 | 115x22 | 72 | 25x17 | 60 | 13300 | 10 | T27/29 | 26059 | 69458268 26059 |
| 4.5x7/8 | 115x22 | 72 | 25x17 | 80 | 13300 | 10 | T27/29 | 26066 | 69458268 26066 |
| 4.5x7/8 | 115x22 | 72 | 25x17 | 120 | 13300 | 10 | T27/29 | 26073 | 69458268 26073 |
| 5x7/8 | 125x22 | 72 | 30x17 | 40 | 12200 | 10 | T27/29 | 26080 | 69458268 26080 |
| 5x7/8 | 125x22 | 72 | 30x17 | 60 | 12200 | 10 | T27/29 | 26097 | 69458268 26097 |
| 5x7/8 | 125x22 | 72 | 30x17 | 80 | 12200 | 10 | T27/29 | 26103 | 69458268 26103 |
| 5x7/8 | 125x22 | 72 | 30x17 | 120 | 12200 | 10 | T27/29 | 26110 | 69458268 26110 |
| 6x7/8 | 150x22 | 90 | 35x19 | 40 | 10200 | 10 | T27/29 | 26127 | 69458268 26127 |
| 6x7/8 | 150x22 | 90 | 35x19 | 60 | 10200 | 10 | T27/29 | 26134 | 69458268 26134 |
| 6x7/8 | 150x22 | 90 | 35x19 | 80 | 10200 | 10 | T27/29 | 26141 | 69458268 26141 |
| 6x7/8 | 150x22 | 90 | 35x19 | 120 | 10200 | 10 | T27/29 | 26158 | 69458268 26158 |
| 7x7/8 | 180x22 | 110 | 40x21 | 40 | 8600 | 10 | T27/29 | 26165 | 69458268 26165 |
| 7x7/8 | 180x22 | 110 | 40x21 | 60 | 8600 | 10 | T27/29 | 26172 | 69458268 26172 |
| 7x7/8 | 180x22 | 110 | 40x21 | 80 | 8600 | 10 | T27/29 | 26189 | 69458268 26189 |
| 7x7/8 | 180x22 | 110 | 40x21 | 120 | 8600 | 10 | T27/29 | 26196 | 69458268 26196 |
| | |
| --- | --- |
| Name:material | |
Message:
Development steps of the tool material?
Replay:
Once you have determined the material characteristics have some sort of applies to its development as a tool material can be applied to actual production, you can follow the following basic steps: (1) the concept of development ① theory envisioned in materials synthesis; ② material properties verification. (2) Trial: Use the materials tool and cutting tests ① blade; ② circular cutter.
| | |
| --- | --- |
| Name:identify | |
Message:
How to identify cutting machine grinding wheel is good or bad?
Replay:
Cutting discs a look at the brand, then there are to look at the appearance, uniform color, no damage, manufacturers, logo, etc.. If selected slices of 400 mm in diameter, generally used 150 can not grind to a flange plate. Used the diameter is too small efficiency drop at the end.