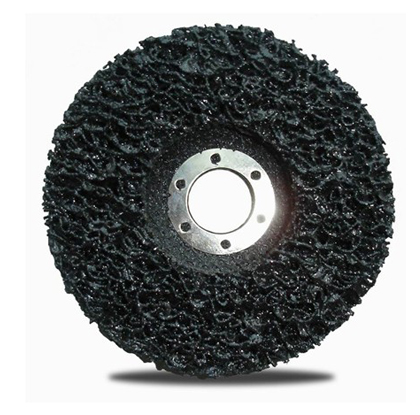 Superior Clean and Strip Disc
Featues:
● Wear-proof nylon fibre
● Coarse black silicon carbide graon
● The open weave structure
● Glass fibre backing
Benefits
● no clogging and no burn marks on metal
● For all kinds of surface preparation and cleaning
● No more chemical strippers or endless scraping
Application
● Removal of welding scale and discoloration
● Removal of paint and adhesives
● Surface preparation for auto body work
● Cleaning of weld seams

| | | | | | | | | | |
| --- | --- | --- | --- | --- | --- | --- | --- | --- | --- |
| Diameter | Diameter | Flaps | Flap size | Grit | Speed | Box | Shape | Art No. | Bar code |
| [Inch] | [mm] | | [mm] | | [r.p.m] | [pcs] | | | |
| 4 | 100 | 1 | 100x16 | coarse | 15200 | 10 | T27 | 20088 | 69458268 20088 |
| 4.5 | 115 | 1 | 115x22 | coarse | 13300 | 10 | T27 | 20095 | 69458268 20095 |
| 5 | 125 | 1 | 125x22 | coarse | 12200 | 10 | T27 | 20101 | 69458268 20101 |
| 6 | 150 | 1 | 150x22 | coarse | 10200 | 10 | T27 | 20118 | 69458268 20118 |
| 7 | 180 | 1 | 180x22 | coarse | 8600 | 10 | T27 | 20125 | 69458268 20125 |
| | |
| --- | --- |
| Name:combination | |
Message:
Efficient combination tool?
Replay:
In some high volume production process, the product takt accurate in seconds to calculate. Processing beat requirements in using the conventional tool program can not meet some of the processing site of the workpiece, usually some combination of tool combination processing. Combination of such processes can not only improve the positional accuracy of the product (such as concentricity, and location, etc.), but also to reduce the tool change time, tool movement and feeding time, transportation, clamping the workpiece between process and adjust the time, so can effectively improve the efficiency of the processing tool. Chengdu 1000 wood CNC Tool Co., Ltd. in this regard has accumulated a lot of practical experience, the current combination of design tool has been widely used in the field of car (parts), valves, motorcycle, gasoline, mold and industrial sewing machines. Pump body shape is more complex, coupled with the lack of understanding on the sets of boring process, the original manufacturers of the technology was alone in the car bed design a very complex set of tooling for turning operations. Through our technology research, design this combination of tools to complete the external circle of rough sets boring, chamfering, counterboring, semi-refined sets of boring and fine sets of boring processing. Steps in this process is the Department's processing of the other holes with the pump body, a fixture on CNC machining centers to complete not only guarantee the outer circle and the shape of the hole position accuracy, but also save the time of the workpiece clamping and The turnaround time between the processes, but can also reduce the duplication of investment in equipment and tooling.
| | |
| --- | --- |
| Name:Abrasive | |
Message:
Abrasive cutter metal circular sawing machine?
Replay:
Abrasive cutter generally cutting grinding wheel, wire-speed 50 meters per second, the market for sale, metal circular saw blades are generally self-made, carbon steel plate cut salt bath quenching, wire-speed, high hot pressing actually friction, cut water pipes The other pipes incision than cutting grinding wheel neatly deformation. Not, abrasive cutter used to cut through steel and other hard metal material, metal circular sawing machine is mainly used for cutting aluminum profiles.