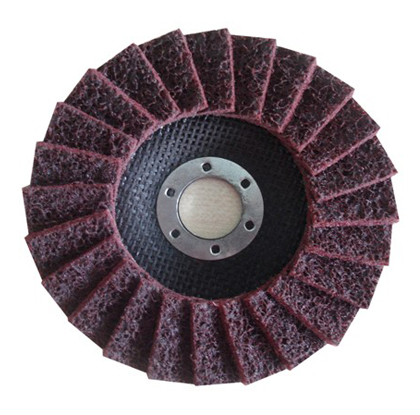 Surface Conditioning Flap Disc
Featues:
● High perfermance Non-woven material
● Preminum aluminum oxide grain
● Fan-shaped lamella structure
● Glass fibre backing
Benefits
● Professionally derust and descale
● Fast and heavy abrasive action
● High resistance to clogging
● Extremely long life
Application
● stainless steel,steel,aluminum and non-ferrous metals.
● Preparing of painted surface
● Preparation and finishing of welding seams
● Polishing of stainless steel surface

| | | | | | | | | | |
| --- | --- | --- | --- | --- | --- | --- | --- | --- | --- |
| Diameter | Diameter | Flaps | Flap size | Grit | Speed | Box | Shape | Art No. | Bar code |
| [Inch] | [mm] | | [mm] | | [r.p.m] | [pcs] | | | |
| 4.5x7/8 | 115x22 | 25 | 25x20 | coarse | 13300 | 10 | T27/29 | 20132 | 69458268 20132 |
| 4.5x7/8 | 115x22 | 25 | 25x20 | medium | 13300 | 10 | T27/29 | 20149 | 69458268 20149 |
| 4.5x7/8 | 115x22 | 25 | 25x20 | fine | 13300 | 10 | T27/29 | 20156 | 69458268 20156 |
| 5x7/8 | 125x22 | 32 | 30x25 | coarse | 12200 | 10 | T27/29 | 20163 | 69458268 20163 |
| 5x7/8 | 125x22 | 32 | 30x25 | medium | 12200 | 10 | T27/29 | 20170 | 69458268 20170 |
| 5x7/8 | 125x22 | 32 | 30x25 | fine | 12200 | 10 | T27/29 | 20187 | 69458268 20187 |
| | |
| --- | --- |
| Name:Configuring | |
Message:
Configuring the blade server?
Replay:
DIY blade? ? Did not ask to have heard of blade servers can DIY. . Estimate your unit would like to DIY rack-mounted servers, and a height of only 4.5cm, looks like the blade? You want the DIY server, is nothing more than for cheaper plans it, Computer City to your DIY server, workmanship, quality, after-sales, are the problem. Server than the PC, PC is broken, can not be used on a client node. If the server was down, all clients can be used not the Cup. Therefore, it is recommended that you buy a brand server, cost-effective if you want to, you can consider a domestic brand of server. Such as this is Rui single quad-core server comes standard with a Xeon X3320 quad-core processor, 2G DDR2 memory, SATA2 160G hard drive, Intel S3200 server chipset server motherboard, dual Gigabit LAN performance can be said to be very powerful.
| | |
| --- | --- |
| Name:Abrasive | |
Message:
Abrasive cutter drawback?
Replay:
Cutting distance can not be too long, too long grinding wheel will become soft, not very uniform thickness of the grinding wheel, the best error of 0.1-0.2mm; Cutting a long time and easy to wear. Cutting machine itself, the accuracy is not very high. Generally through the high-speed rotation of the sheet wheel cutter grinding material to be cut so that it separated. Belt-shaped cutting machine, etc. due to different of the object to be cut, as well as steel disc toothed cutter.