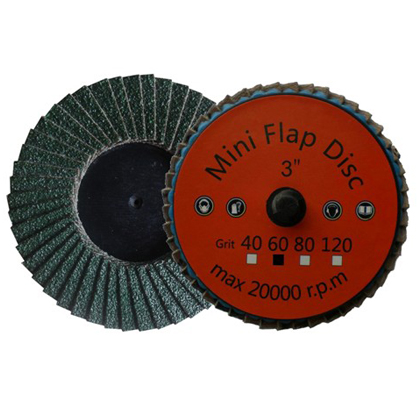 ZA Industry Mini Quick Change Flap disc
Featues:
● High perfermance Zirconia alumina grain
● Heavy cloth with improved resistance to wear
● Close coated for more material removal
● Roloc Plastic backing
Benefits
● Grind and finish in one operation
● Allows access to small surface areas
● Exta long life minimizes disc change-over time
●Lasts 20 times longer than roloc sanding discs
Application
● stainless steel, high tensile alloys
● ferrous and non-ferrous metals

| | | | | | | | | | |
| --- | --- | --- | --- | --- | --- | --- | --- | --- | --- |
| Diameter | Diameter | Flaps | Flap size | Grit | Speed | Box | Shape | Art No. | Bar code |
| [Inch] | [mm] | | [mm] | | [r.p.m] | [pcs] | | | |
| 2 | 50 | 32 | 15x15 | 40 | 30000 | 50 | T27 | 20002 | 69458268 20002 |
| 2 | 50 | 32 | 15x15 | 60 | 30000 | 50 | T27 | 20019 | 69458268 20019 |
| 2 | 50 | 32 | 15x15 | 80 | 30000 | 50 | T27 | 20026 | 69458268 20026 |
| 2 | 50 | 32 | 15x15 | 120 | 30000 | 50 | T27 | 20033 | 69458268 20033 |
| 3 | 75 | 45 | 20x15 | 40 | 20000 | 50 | T27 | 20040 | 69458268 20040 |
| 3 | 75 | 45 | 20x15 | 60 | 20000 | 50 | T27 | 20057 | 69458268 20057 |
| 3 | 75 | 45 | 20x15 | 80 | 20000 | 50 | T27 | 20064 | 69458268 20064 |
| 3 | 75 | 45 | 20x15 | 120 | 20000 | 50 | T27 | 20071 | 69458268 20071 |
| | |
| --- | --- |
| Name:identified | |
Message:
How to identified fitter drill?
Replay:
You ask this question, you want to know how to identify the diameter of the drill, material, or want to know or what drill types. Drill up points from the shape of the structure, there are two straight shank twist drills and taper shank twist drill. The structure of the drill bit itself is divided into: the cutting portion, and guide portion and a shank portion (ie, add holding portion) Whether straight shank or taper shank drill bit diameter and material, and also includes nameplates are engraved in the shank of the drill, if you just want to know the drill diameter, material, nameplate, look at the shank know. If you would like to know the drill sharpening angle, then you need to have drill deeper understanding. Ordinary drill grinding into 118-120 °, sometimes according to the different materials, as well as sharpening into other angles, even open some flutes This group drill, three drill this concept.
| | |
| --- | --- |
| Name:Grinding | |
Message:
Grinding wheel precision cutting what coolant?
Replay:
The emulsion can be used to improve the surface roughness; cooling effect is not very good, you can pin with sub-acid sodium and bicarbonate of soda, but now these two bad purchase kerosene cooling.