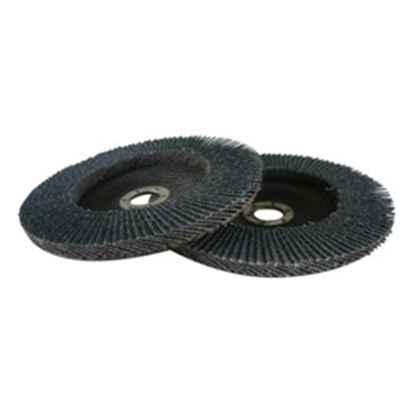 ZA600 Perfect Jumbo Line
Featues:
● Preminum Zirconia alumina grain
● Heavy cotton cloth
● High density flaps with extra-long flaps
● Heavy backing with improved resistance to wear
Benefits
● General purpose,up to 35% long life
● Better stock removal
● Best for heavy duty applicatons
Application
● Stainless steel, high tensile alloys
● Ferrous and non-ferrous metals

| | | | | | | | | | |
| --- | --- | --- | --- | --- | --- | --- | --- | --- | --- |
| Diameter | Diameter | Flaps | Flap size | Grit | Speed | Box | Shape | Art No. | Bar code |
| [Inch] | [mm] |   | [mm] |   | [r.p.m] | [pcs] |   |   |   |
| 4x5/8 | 100x16 | 90 | 25x18 | 40 | 15200 | 10 | T27/29 | 22044 | 69458268 22044 |
| 4x5/8 | 100x16 | 90 | 25x18 | 60 | 15200 | 10 | T27/29 | 22051 | 69458268 22051 |
| 4x5/8 | 100x16 | 90 | 25x18 | 80 | 15200 | 10 | T27/29 | 22068 | 69458268 22068 |
| 4x5/8 | 100x16 | 90 | 25x18 | 120 | 15200 | 10 | T27/29 | 22075 | 69458268 22075 |
| 4.5x7/8 | 115x22 | 84 | 25x19 | 40 | 13300 | 10 | T27/29 | 22167 | 69458268 22167 |
| 4.5x7/8 | 115x22 | 84 | 25x19 | 60 | 13300 | 10 | T27/29 | 22174 | 69458268 22174 |
| 4.5x7/8 | 115x22 | 84 | 25x19 | 80 | 13300 | 10 | T27/29 | 22181 | 69458268 22181 |
| 4.5x7/8 | 115x22 | 84 | 25x19 | 120 | 13300 | 10 | T27/29 | 22198 | 69458268 22198 |
| 4.5x7/8 | 115x22 | 96 | 25x19 | 40 | 13300 | 10 | T27/29 | 22204 | 69458268 22204 |
| 4.5x7/8 | 115x22 | 96 | 25x19 | 60 | 13300 | 10 | T27/29 | 22211 | 69458268 22211 |
| 4.5x7/8 | 115x22 | 96 | 25x19 | 80 | 13300 | 10 | T27/29 | 22228 | 69458268 22228 |
| 4.5x7/8 | 115x22 | 96 | 25x19 | 120 | 13300 | 10 | T27/29 | 22235 | 69458268 22235 |
| 5x7/8 | 125x22 | 84 | 30x19 | 40 | 12200 | 10 | T27/29 | 22327 | 69458268 22327 |
| 5x7/8 | 125x22 | 84 | 30x19 | 60 | 12200 | 10 | T27/29 | 22334 | 69458268 22334 |
| 5x7/8 | 125x22 | 84 | 30x19 | 80 | 12200 | 10 | T27/29 | 22341 | 69458268 22341 |
| 5x7/8 | 125x22 | 84 | 30x19 | 120 | 12200 | 10 | T27/29 | 22358 | 69458268 22358 |
| 5x7/8 | 125x22 | 96 | 30x19 | 40 | 12200 | 10 | T27/29 | 22365 | 69458268 22365 |
| 5x7/8 | 125x22 | 96 | 30x19 | 60 | 12200 | 10 | T27/29 | 22372 | 69458268 22372 |
| 5x7/8 | 125x22 | 96 | 30x19 | 80 | 12200 | 10 | T27/29 | 22389 | 69458268 22389 |
| 5x7/8 | 125x22 | 96 | 30x19 | 120 | 12200 | 10 | T27/29 | 22396 | 69458268 22396 |
| 6x7/8 | 150x22 | 110 | 35x21 | 40 | 10200 | 10 | T27/29 | 22440 | 69458268 22440 |
| 6x7/8 | 150x22 | 110 | 35x21 | 60 | 10200 | 10 | T27/29 | 22457 | 69458268 22457 |
| 6x7/8 | 150x22 | 110 | 35x21 | 80 | 10200 | 10 | T27/29 | 22464 | 69458268 22464 |
| 6x7/8 | 150x22 | 110 | 35x21 | 120 | 10200 | 10 | T27/29 | 22471 | 69458268 22471 |
| 7x7/8 | 180x22 | 140 | 40x23 | 40 | 8600 | 10 | T27/29 | 22525 | 69458268 22525 |
| 7x7/8 | 180x22 | 140 | 40x23 | 60 | 8600 | 10 | T27/29 | 22532 | 69458268 22532 |
| 7x7/8 | 180x22 | 140 | 40x23 | 80 | 8600 | 10 | T27/29 | 22549 | 69458268 22549 |
| 7x7/8 | 180x22 | 140 | 40x23 | 120 | 8600 | 10 | T27/29 | 22556 | 69458268 22556 |
| | |
| --- | --- |
| Name:selection | |
Message:
Proper selection and use of the tool?
Replay:
Tool surface cutting direct participants to understand and become familiar with the processing status of the tool is the right choice tool premise. Tool selection, tool factors to consider, such as material, coating, Groove, length and diameter outside, also need to take full account of the relevant processing factors, such as processing materials, cooling method, spindle rigidity and fixture stability . In this case, we use a non-standard tool shown in Figure 3, thereby reducing a workpiece clamping time, reduce the processing time of the machine. While using our latest products carbide cutting tools, greatly improving the processing speed, thereby significantly reducing the processing time.
| | |
| --- | --- |
| Name:Handheld | |
Message:
Handheld abrasive cutter how to cut wood have specialized cutting wood with circular saw?
Replay:
Embedded in the blade surface slit in soft materials like wood by friction after high temperature carbonization, but easy to make fiber carbonization, filled corundum flute angle. Therefore, so that the surface of the corundum loss of sharpness. Blade, grinding wheel, cutting wood to use too If the wood is thick, you may consider using a laser cutting machine, no noise dust, the safe operation of the provincial labor