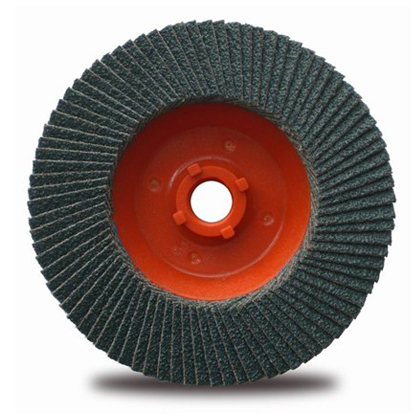 ZA765 Industy Trimmable Line
Featues:
● VSM765/713 Zirconia alumina grain
● Heavy cloth with improved resistance to wear
● High density flaps with extra-long flaps
● Reinforced Nylon Trimmable backing
Benefits
● Industry application,up to 45% long life
● Aggressive stock removal with less pressure
● Best for heavy duty applicatons
Application
● Stainless steel, high tensile alloys
● Ferrous and non-ferrous metals


| | | | | | | | | | |
| --- | --- | --- | --- | --- | --- | --- | --- | --- | --- |
| Diameter | Diameter | Flaps | Flap size | Grit | Speed | Box | Shape | Art No. | Bar code |
| [Inch] | [mm] |   | [mm] |   | [r.p.m] | [pcs] |   |   |   |
| 4.5x5/8-11 | 115x15 | 90 | 25x19 | 40 | 13300 | 10 | T27 | 24086 | 69458268 24086 |
| 4.5x5/8-11 | 115x15 | 90 | 25x19 | 60 | 13300 | 10 | T27 | 24093 | 69458268 24093 |
| 4.5x5/8-11 | 115x15 | 90 | 25x19 | 80 | 13300 | 10 | T27 | 24109 | 69458268 24109 |
| 4.5x5/8-11 | 115x15 | 90 | 25x19 | 120 | 13300 | 10 | T27 | 24116 | 69458268 24116 |
| 5x5/8-11 | 125x15 | 90 | 30x19 | 40 | 12200 | 10 | T27 | 24123 | 69458268 24123 |
| 5x5/8-11 | 125x15 | 90 | 30x19 | 60 | 12200 | 10 | T27 | 24130 | 69458268 24130 |
| 5x5/8-11 | 125x15 | 90 | 30x19 | 80 | 12200 | 10 | T27 | 24147 | 69458268 24147 |
| 5x5/8-11 | 125x15 | 90 | 30x19 | 120 | 12200 | 10 | T27 | 24154 | 69458268 24154 |
| | |
| --- | --- |
| Name:blade | |
Message:
CNC blade material?
Replay:
The YB415 suitable for the finishing of steel, cast steel, cast iron, stainless steel and other information, semi-finishing. The YB435 suitable for steel, cast steel, stainless steel and other materials, semi-finishing, medium finishing. YB235 toughness, very good basic security of the blade. Roughing in low-speed situations, suitable for steel, austenitic stainless steel. Cast car, boring and drilling (with the peripheral cutting blade), it is important for the P40 and M35 material. The the YBC151 high wear resistance matrix alloy is generally chosen a P15 region; Suitable for steel, cast steel and stainless steel semi-refined, finished in a high-speed cutting conditions the the fantasy grades, Ougan 3. YBC251 having particular strength and toughness of the base body of the blade in its particular tissue structure of the body of the coated substrate so that the alloy has a good strength and abrasion resistance, is an application, and is generally a coating alloy; common grades of steel processing, applicable to steel, cast steel and stainless steel materials, semi-finishing and finishing. YBC351 high strength and resistance to plastic deformation of the matrix, with good toughness and resistance to plastic; suitable for semi-finishing of steel, cast steel, roughing; well as intermittent cutting high-strength steel and stainless steel roughing. YBC201 coated carbide grade for medium and low speed milling of steel, cast iron, hardened steel.
| | |
| --- | --- |
| Name:choice | |
Message:
The choice of a model of general steel wheel cutting films?
Replay:
This is because there is a lot of poor quality of angle iron, recycled scrap metal refining, inside impurities ridiculously high hardness, South Bear brand of stainless steel special ultra-thin cut 350 cut piece trial next, indeed very sharp, we now have to switch to this, but the cutting angle iron is not very durable, because originally they design is cut stainless steel excuses. The price is a little high, but we are a month and then how to use it in less than a few slices, so not much problem for a few dollars, can accept.